Football (Soccer to be clear if) is the largest sport in the Netherlands and this years competition is coming to an end. We got three large clubs in this country: Ajax, Feyenoord and PSV. Last two years the league has been won by PSV, the four before those two by Ajax.
Feyenoord somehow has the largest fan base in the country but their last title was in '99. Their last success in Europe was winning the UEFA Cup in 2002 but the years after that were not great. They are the largest club in the city of Rotterdam. Sparta and Excelsior are two other smaller clubs from Rotterdam, Excelsior being the smallest club with the lowest budget and stadium in the first division.
This season Feyenoord has been in the first place in the competition from the start and hasn't slipped to second place with just one round to go. Feyenoord fans are going crazy with the probable championship title in foresight.
Here's the story of Rotterdam, Sunday 7 April.
Feyenoord had a great start this season and while other rivals were losing points in the beginning of the season Feyenoord had luck on its side and played better than others. Ajax had a new coach whose new style of football cost them a lot of point in the first half of the season and PSV are performing inspiration-less.
Halfway the season fans started calculating when their club could be crowned champion and some predicted that it might be the second to last match against their smaller (ex)satellite-club Excelsior. Excelsior has the smallest stadium in the league with 4.500 seats. Compare to Feyenoord's 51.500 that's a lot smaller and they don't even fill up all the places every game.
Excelsior also became aware that the tittle match might be around the time they play against their bigger city rival. During the winterstop Excelsior held a half-season ticket sale and about 250 Feyenoord fans have bought those tickets. Prices for those passes varied between 130, 80 and 60 euro's for the 8 remaining home matches. That's real cheap and probably the lowest in the league.
The season went on and Feyenoord kept winning and winning. Fans became mad. People started getting tattoos weeks before the end of the season with Feyenoord Kampioen 2017 and sorts of stuff. An article in the newspaper two weeks ago was showing the madness. Tattoo shops in Rotterdam were fully booked for the month June. Even shops in the nearby cities could feel the increase in demand. That's insane, we are talking about a city with more than a million people and a city that is traditionally a working man city with the largest port of Europe.
The fans wanted to be there. Tickets for the match last Sunday were being offered on Marktplaats (the Dutch equivalent of Craigs list/eBay etc.) for €300's and more. There have been ads that would go up to €5000 and there is a good chance they have been sold for that price. For the record, the same seat in the stadium the match before this one was €17.
Feyenoord having so much supporters who wanted to see their club becoming champion organized a gathering for their fans in their own stadium during the match with live video coverage.  Tickets for the 50.000 seats were originally €10.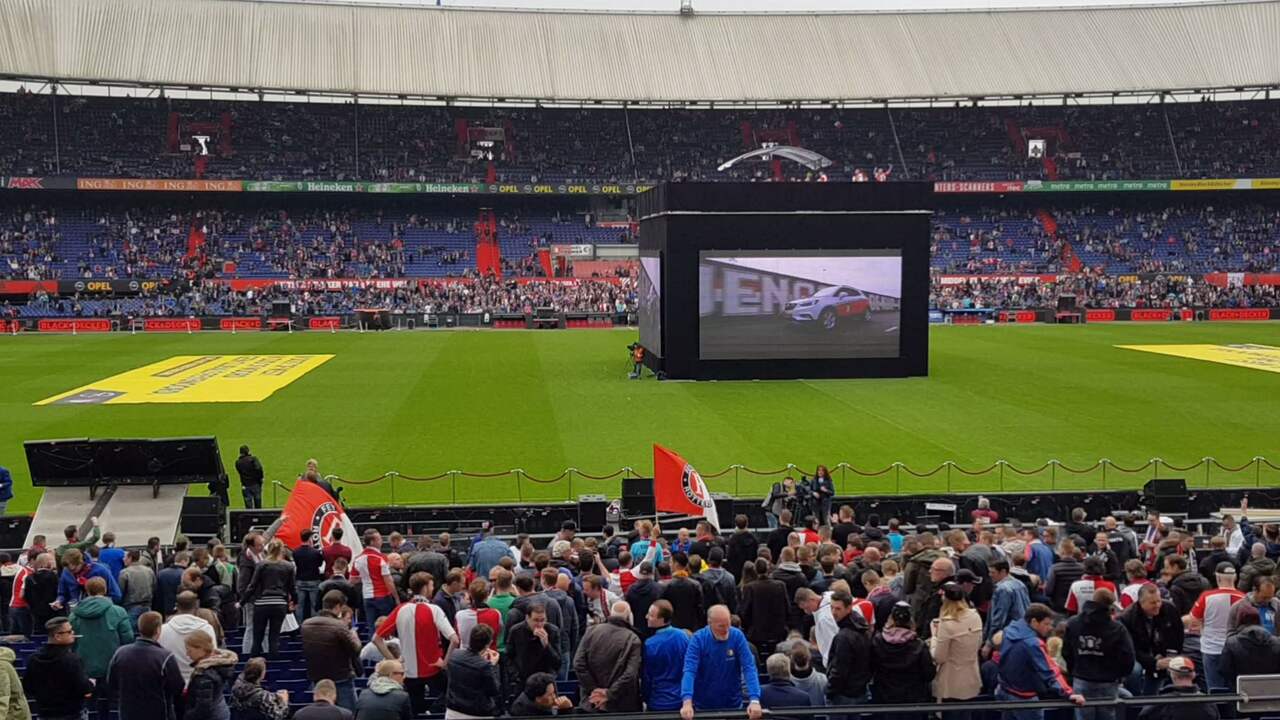 Guess what? 50.000 was not enough 🙂 These tickets also went up to €300 on the market. Crazy.
Their even was a story on the news about a man who immigrated to Australia in 2002 and traveled 16.000 kilometers with his son (born in Sidney two years later) to see this match.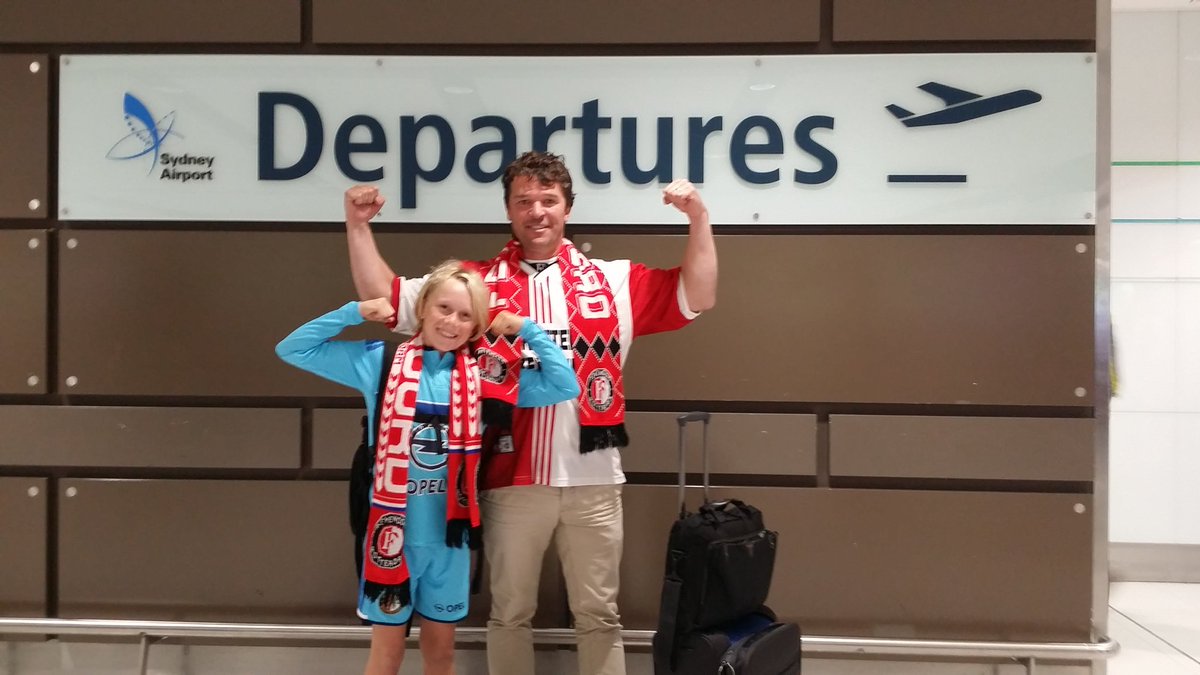 The City of Rotterdam made preparations for festivities in the city and around both stadia. They knew on forehand that extra security was needed for the players bus to make the 6,1 km trip on time just because the massive amount of fans that would be roadside during before the game.
Video of Feyenoord arriving at Excelsior
Video impression of the Feyenoord stadium during the match
One crazy fan needed to be removed from the stadium lights
In the center of Rotterdam at match start
Sunday 16:15
But then in the second half things happened… A picture sometimes says more than words can do
Feyenoord couldn't cope with the pressure and got hammered by Excelsior in the second half. Excelsior needed one point in this match or the next one to play itself safe from a theoretical relegation.
Ajax, arch-rival and the only club that in theory could win the title other than Feyenoord, became aware of the situation during their match and the their fans went wild. They won their match with 4-1 against the bottom club in this years league.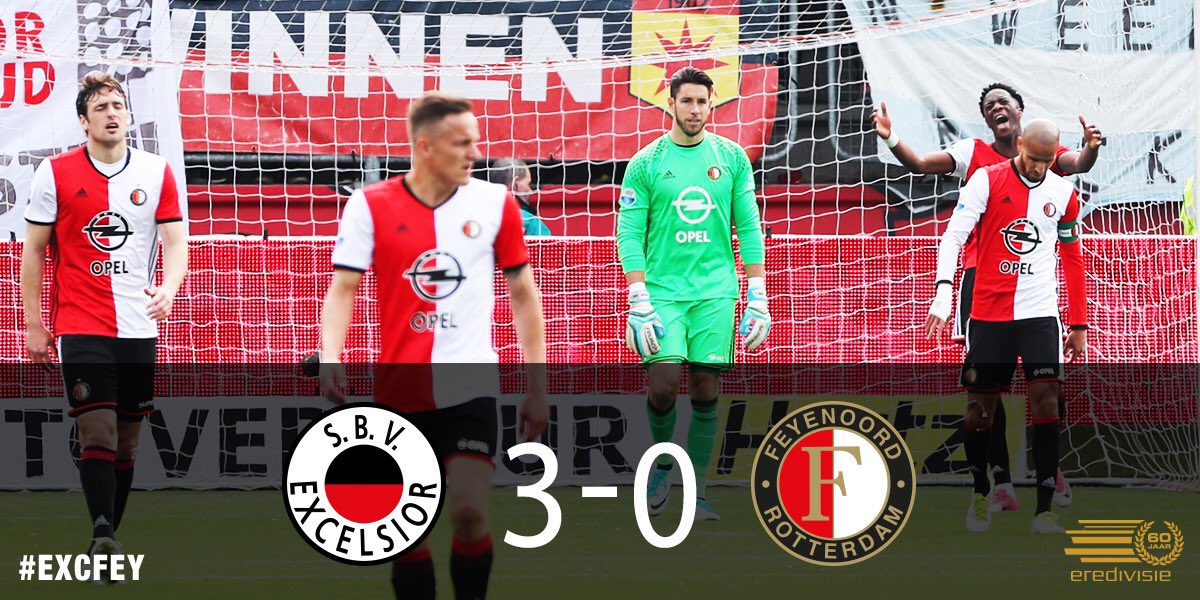 Feyenoord has a bad name when it comes to hooligans and what happens when you put a lot of people with questionable IQ and a disappointed or perhaps even angry state of mind together? In Dutch: De pleuris breekt uit / shit happens.
Here are some pictures
City center after the festivities.
But the funny thing is that during this mini war at the Coolsingel in Rotterdam the real fans were cheering the players on their arrival back home even thou they f***** up and lost. Nothing bad happend here.
Here is a video of a man breaking his foot after a police fan ran over it.
And a video of not so great police work @ 0:21.
To sum it all up.
About 100 people were arrested.
40 of them are still being detained because of more serious offences. Tuesday or Wednesday they will know if they will have to go to court or are just fined.
1 or 2 of those 40 are already released because they have their school exam this month 😀
A team of 20 detectives is gonna be busy the next few weeks to identify more people who went nuts on Sunday.
Students in Rotterdam didn't have this Monday off because there was no ceremony 😉
On forehand the Mayer stated that there will be no ceremony on Monday if fans fucked it up on Sunday. Guess what, the Mayer already stated there will be a ceremony next week (if they become champions), this amount of chaos was expected and somehow okay…
Striker Elvis Manu, former player of Feyenoord and now ex-GA Eagles, got fired today because he tweeted a picture with hearts and the text FeyenoordRotterdam 45 minutes before their game with Ajax.
Feyenoord are still in the lead with 1 point. Their last match will be at home game against the number 9 who still is in the fight to win Europa league tickets. Ajax will play away against the number 12. Everything is possible next week.